Hugh Richardson (1905-2000)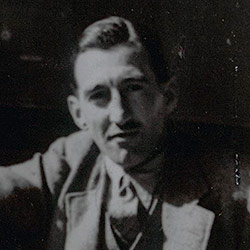 Hugh Richardson
(Detail of
BMR.86.1.29.1
, copyright PRM)
(Show photographs by Hugh Richardson )
Hugh Edward Richardson was born in St. Andrews, Scotland, on 22 December 1905. He was the son of Colonel Hugh Richardson, a military doctor and university lecturer, and grandson of an Indian Civil Service officer. Richardson was educated at Salvator's School, St Andrews, and Trinity College, Glenalmond, and went on to study classics at Keble College, Oxford. After a brief stint teaching at his old school in Scotland, Glenalmond, Richardson followed in his grandfather's footsteps and joined the Indian Civil Service in 1930. Between 1932 and 1934 he was Sub-Divisional Officer stationed in Bengal and it was here that his interest in Tibet began. He started to learn the language from a Tibetan servant and during a period of leave in 1933, traveled through Sikkim and into Tibet as far as Phari. This first encounter with Tibet was the beginning of a life-long commitment to the land and its people.
In 1934 Richardson was appointed Assistant Political Agent in Loralai, Baluchistan (Pakistan) serving under Basil Gould. Gould was impressed by Richardson and knew of his interest in Tibet and so, when Gould took up the position of Political Agent for Sikkim, Bhutan and Tibet in 1935, he helped Richardson to secure a posting in Tibet. In July 1936 Richardson took up the appointment as Trade Agent at Gyantse and was also called upon to be a member of the Political Mission to Lhasa, which arrived in the Tibetan capital in August 1936. The eight-man delegation was lead by Basil Gould and included Frederick Spencer Chapman and Evan Nepean. Richardson's role in the Mission was to open communications with Tibetan government officials and to work with Gould in developing Tibetan-British policy.
Officially, the Mission's role was to mediate for the return of the Panchen Lama from exile in China. Unofficially it was also designed to counter the influence of Chinese officials in the Tibetan capital. The Mission remained in Lhasa for 6 months during which time it was agreed that the British should maintain a permanent presence in Lhasa. Therefore, after Gould and the bulk of the party left Lhasa in February 1937, Richardson remained behind as the first Head of the British Mission in Lhasa. In this capacity Richardson spent a total of eight years resident in Tibet - from 1936-1940 and 1947-50.
During those years Richardson was able to become fluent in the Tibetan language and to become familiar with the country and its people. He made friends with many of Tibet's leading officials including the young 14 th Dalai Lama. Although government protocols did not allow Richardson to meet the Tibetan leader in private, he was able to communicate with him and send gifts via two Austrians living in Lhasa, Heinrich Harrer and Peter Aufschnaiter. It was not until 1959, when the 14 th Dalai Lama fled Tibet for India, that Richardson was able to meet him properly and in person.
The relative peace and stability of Tibet at the time Richardson was there allowed him to travel widely. He saw much of Central Tibet, visiting all the major monasteries and often going out of his way to search out historical inscriptions on pillars. The study of these ancient inscribed pillars ( doring ) was one of Richardson's enduring scholarly interests. As a permanent resident in Lhasa, Richardson was also able to witness many important Tibetan ceremonies. As he stated in his book, Ceremonies of the Lhasa Year , 'when one was accepted by the officials of the Tibetan Government they always seemed eager that their guests should attend the ceremonies. They arranged seating with a good view but at a discreet distance...'.
When he was not occupied with his official duties Richardson had time to pursue his own interests. His hobbies were ornithology, botany and gardening and he was also an enthusiastic photographer. Another of Richardson's passions was golf, which he introduced to Tibet, although he noted that the ball tended to travel 'rather too far in the thin air'.
Richardson did not remain in Tibet during World War II. However, before he left in 1939, he witnessed the arrival in Lhasa of the recently 'discovered' 14 th incarnation of Dalai Lama and was able to take many photographs of the procession into the city. Unfortunately Richardson was then posted to India and so was not able to attend the Dalai Lama's installation ceremony in February 1940.
During his time away from Tibet, Richardson held several appointments in Pakistan, China and India and in 1946 he returned to Lhasa to resume his post as Officer-in-Charge of the British Mission. After India gained its independence from Britain in 1947 he continued in post as the Indian Government representative. In doing so he was probably the last British official to occupy an important diplomatic posting on behalf of the Indian Government. He received an OBE in 1944 and a Companion of the Indian Empire (CIE) in 1947.
In August 1950, only a few months before the Chinese invasion of Tibet, Richardson left the civil service and Lhasa. He had been aware of the changing politics of the time and the growing threat from China. Richardson spent a short time in Malaya before retiring to St Andrews where he married Huldah Rennie in 1951(and continued to play golf as one of the longest serving members of the Royal and Ancient Golf Club).
Richardson then began a second career as a scholar of Tibet. His understanding of Tibetan culture and history was such that he became one of the finest of his era and he has been dubbed the 'father of modern Tibetan studies'. He published several books and articles including: A Cultural History of Tibet (1986, co-authored with David Snellgrove); Ceremonies of the Lhasa Year (1993); and High Peaks, Pure Earth (1998), a collection of papers and articles, edited by Michael Aris. Richardson's books are decidedly academic in nature - he divulged little of his own personal thoughts and feelings: 'His writing energies went into the historical and cultural - self-revelation would have been totally out of character'.
During these later years Richardson lectured in Tibetan history and language at several universities. He obtained an honorary doctorate from the University of St Andrews in 1985 and became an Honorary Fellow of both the British Academy (1986) and of Keble College, Oxford (1981). Along with David Snellgrove, Richardson was a founder-trustee of the Institute of Tibetan Studies in Tring. He continued to maintain links with the Tibetan exile community and with the 14 th Dalai Lama. In 1959 he played a major role in the founding of the Tibet Society of the UK and remained an advocate for Tibetan independence until his death. In 1950 he accompanied a delegation to New York to lobby for the United Nations to oppose the Chinese occupation of Tibet. Richardson was also critical of his own government's stance, stating that, '... the British Government, the only government among Western countries to have had treaty relations with Tibet, sold the Tibetans down the river and since then have constantly cold-shouldered the Tibetans so that in 1959 they would not even support a resolution in the UN condemning the violation of human rights in Tibet by the Chinese'.
Richardson died at St Andrews on 3 December 2000, aged 94, after a long illness. His loss was felt in both the United Kingdom and in Tibet: at the time of his memorial service in Scotland, butter lamps were lit in the Jokhang in Lhasa in his honour. The Dalai Lama also sent a personal letter expressing his sadness: '... I consider him not only a personal friend but also a very good friend of the Tibetan nation and its people... And because he had lived in Tibet and known Tibet and the Tibetans intimately he was truly precious to us... With his death Tibet had lost one of its foremost champions...'.
Compiled by Claire Freeman, Curatorial Assistant, Pitt Rivers Museum
Selected Publications by Hugh Richardson
Tibetan Word Book (with Basil Gould). London: Oxford University Press, 1943
Ancient Historical Edicts at Lhasa (translator). London: Royal Asiatic Society, 1952
Tibet and its History . London: Oxford University Press, 1962.
A Cultural History of Tibet (with David Snellgrove). London: Weidenfeld and Nicolson, 1968.
Ch'ing Dynasty Inscriptions at Lhasa . Rome: Instituto Italiano per il Medio ed Estremo Oriente, 1974.
A Corpus of Early Tibetan Inscriptions . London: Royal Asiatic Society, 1985.
Ceremonies of the Lhasa Year . Edited by Michael Aris. London: Serindia, 1993.
High Peaks, Pure Earth: Collected Writings of Tibetan History and Culture . Edited by Michael Aris. London: Serindia, 1998.
Additional Sources:
Chapman, F. Spencer. Lhasa: The Holy City . London: Chatto & Windus, 1938.
Croston, Roger. 'Hugh Richardson' in European Bulletin of Himalayan Research . Heidelberg & London: Südasien-Institut, Heidelberg University and the School of Oriental and African Studies, University of London, 2001.
Douglas, Ed. 'Obituary' in The Guardian . 5 January 2001.
Hu Yan. 'Obituary' in The Scotsman . 7 December 2000.
McKay, Alex. Tibet and the British Raj . London: Curzon Press, 1997.
McKay, Alex. 'Obituary' in International Institute for Asian Studies Newsletter , No. 24. 14 December 2000.
Richardson, Hugh. 'My Direct Experience of Independent Tibet 1936-49'. Tibet Society of the UK Information Sheet, London.
Who Was Who . A & C Black, October 2001.
© 2006 Pitt Rivers Museum, South Parks Road, Oxford, OX1 3PP