Sir Charles Bell (1870-1945)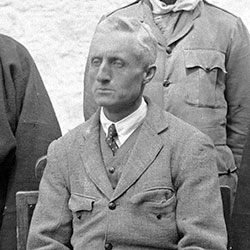 Sir Charles Bell in Lhasa
(Detail of
1998.285.306
, copyright PRM)
(Show photographs by Sir Charles Bell)
Charles Alfred Bell was born in Calcutta, India, on 31 October 1870 - the son of Henry Bell of the Indian Civil Service (ICS). Educated at Winchester school and New College, Oxford, Charles also joined the ICS in 1891 and spent the next nine years in various posts in Bengal, Bihar and Orissa, before being transferred to Darjeeling in 1900. It was there that he had his first contact with Tibetans and became fascinated with the people and their culture. Bell at once applied himself to learning the Tibetan language. This led to the publication, in 1905, of his first book, A Manual of Colloquial Tibetan , a two-part grammar-phrase book and dictionary. During the next few years Bell became increasingly involved in the political affairs of Tibet and the surrounding regions. In 1904-5 he was put in charge of administration of the Chumbi Valley, an area that had been temporarily ceded by Tibet to Britain under the terms of the Younghusband Treaty. Bell also served as the acting Political Officer for Sikkim, Bhutan and Tibet during the absence of John C. White, before succeeding him in the post in 1908.
The most significant event during Bell's time as Political Officer was meeting the Thirteenth Dalai Lama in 1910. His Holiness had been forced to flee Tibet under pressure from the Chinese and had sought refuge in Sikkim. As Political Officer for the region Bell, was responsible for the Dalai Lama during his exile. The two formed an intimate and lasting friendship, which was to prove critical to the British in their future negotiations and dealings with Tibet after the Dalai Lama's return to Lhasa in June 1912. As Bell himself stated, the assistance given to the Dalai Lama during his exile was "perhaps the chief reason why the British name stands high in Tibet".
Bell's diplomatic acumen was put to use during the treaty negotiations with the Tibetans in 1913-14, when he played an important role as advisor on Tibetan affairs to the British plenipotentiary, Sir Henry McMahon. A treaty was signed which set out new Anglo-Tibetan trade regulations. The fact that the Tibetans agreed to this was very much a reflection of the confidence that the 13th Dalai Lama and his representative, Prime Minister (Lonchen) Shatra, had in Bell. The British government awarded Bell a C.M.G. (knighthood) for his part in the process.
Bell continued as Political Officer for Sikkim, Bhutan and Tibet until 1918. During this time he continued his communications with the 13 th Dalai Lama and advised him on the modernization policies he was developing for Tibet. Bell was widely acknowledged in British circles as the primary authority on Tibetan matters at this time.
After 1918 Bell took leave from the Civil Service and devoted himself to the study of Tibet, spending the next two years in Darjeeling. Although for many years he had an open invitation from the 13 th Dalai Lama to visit Lhasa, the British Government did not allow him to do so. However, in 1919 the situation changed when the Political Officer, Captain W.L. Campbell unexpectedly resigned. Bell took up the position once again, on the understanding that there was a strong possibility that he would be allowed to visit Lhasa.
In 1920 Bell was finally given Government permission to visit the Tibetan capital as part of a diplomatic mission, arriving in Lhasa on 17 November. Bell's role was to advise the Tibetans on foreign policy. "The Dalai Lama showed his more than friendly intentions by receiving Sir Bell, at the very first interview, informally, sitting with him at a small table in his private apartment, with no witness present. This was regarded by the people of Lhasa as a special honour, as it was the custom for His Holiness to receive even the highest Tibetan officials while seated on his dais" .
Bell remained in Lhasa for the best part of a year. After his return, in 1921, he left the ICS and applied himself to writing about Tibet. In his retirement, Bell published several books on Tibetan culture and history - Tibet: Past and Present (1920), followed by The People of Tibet (1928), and The Religion of Tibet (1931). Bell also continued his personal correspondence with the Dalai Lama.
In 1934 Bell returned to Tibet once again and this time with his wife, Cashie. Unfortunately he was too late to meet his old friend again, for the 13 th Dalai Lama had passed away in December 1933. Bell continued his travels in Central Asia during the next few years visiting Mongolia, Manchuria and Siberia. Fittingly, Bell's final work was a result of the strong bond that he had formed with the 13 th Dalai Lama since their first meeting in 1910. The book, Portrait of the Dalai Lama , was completed only a few days before his death in Canada (where he had recently migrated) on 8 March 1945.
Sir Charles Bell was probably the most influential British officer to serve in Tibet. He set the groundwork for Anglo-Tibetan relations, and his visit to Lhasa in1920 paved the way for subsequent British officials to travel to Tibet. Bell's strength lay in the way he was able to immerse himself in Tibetan culture and language, becoming, in his own words, "in a large measure Tibetanised". This earned him the respect and acceptance of the many Tibetans. As one Tibetan official "When a European is with us Tibetans I feel that he is a European and we are Tibetans; but when Lonchen Bell is with us, I feel that we are all Tibetans together".
Compiled by Claire Freeman, Curatorial Assistant, Pitt Rivers Museum
Selected Publications by Bell
Manual of Colloquial Tibetan . Calcutta: Baptist Mission Press, 1905
Tibet: Past and Present . Oxford: The Clarendon Press, 1924
The People of Tibet . Oxford: The Clarendon Press, 1928
The Religion of Tibet. Oxford: The Clarendon Press, 1931
Portrait of the Dalai Lama . London: Collins, 1946
'A Year in Lhasa', Geographical Journal , volume 63, 1924: 89-105
Additional Sources
Cech, Krystyna, and Edwards, Elizabeth. Introduction to:
Tibet: A Great Mountain Land . Oxford, 1987 (exhibition held at the Pitt Rivers Museum, Oxford,1987-88).
Chapman, F. Spencer. Lhasa: The Holy City . Chatto & Windus: London, 1938.
De Alarcón, Marina. 'Charles Bell' in Collectors: Collecting for the Pitt Rivers Museum. Oxford: Pitt Rivers Museum, 1996.
Gould, Basil. Entry on Bell in: The Dictionary of National Biography , Oxford: Oxford University Press, 1995.
Harris, Clare. Entry in: A Camera in Tibet: Photographs of Charles Bell and Spencer Chapman. London: Atlas Ltd Editions, 2000 (exhibition held in the Atlas Gallery, London, 2000)
McKay, Alex. Tibet and the British Raj . London: Curzon Press, 1997.
Richardson, Hugh. High Peaks, Pure Earth: Collected Writings on Tibetan History and Culture . Edited by Michael Aris. London: Serindia, 1998. p.144
Who Was Who . A & C Black, October 2001.
© 2006 Pitt Rivers Museum, South Parks Road, Oxford, OX1 3PP